The living room of our house is the place where we spend a lot of time, watching television, and chatting with guests or family. That is why we must always have it clean and tidy and with these tips on how to clean the living room, you will have the best presentation of your living room for the people you love the most.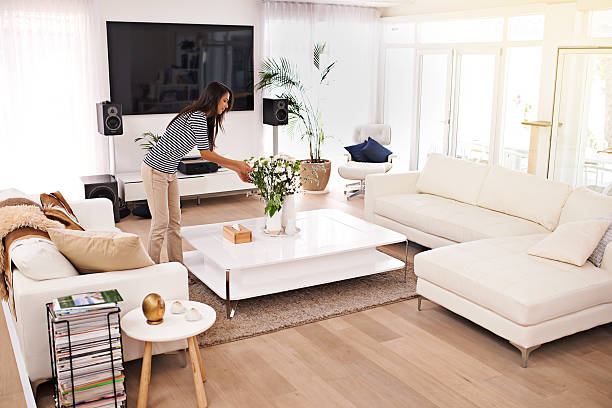 Although we may do an excellent job of maintaining our living room cleaning, from time to time we need to do more than just maintenance because we often forget to clean certain areas. But remember if you don't have time to do the cleaning yourself, call us and we will do it for you!
Today you can find tips such as:
Clean frequently missed areas

How to clean a living room

The best cleaning materials for different surfaces
Cleaning often seems to be an impossible and daunting task but if we organize ourselves we can always keep the house clean and tidy so let's get to work and start!
Start by tidying up your living room
Grab a garbage can or basket and collect all the clutter that doesn't belong in the living room. Shoes, toys, etc. Having a tidy living room makes it easier to start cleaning and see which areas will need the most attention.  
Tidy up the sofa
The sofa is one of the places where we spend the most time and where we forget to clean it well, so you should shake the cushions and cover to remove dust. If the sofa is made of leather, take a damp cloth and wipe the surface.  If you want to clean more deeply, you can take a hand vacuum cleaner and go over the sofa once or twice.
Vacuum the furniture
In case you have a carpet in your living room, you should vacuum the surface to remove any traces of dust. Before this, you can sweep to remove papers or any larger dirt. 
Spot clean floors
Floors are the part of the room that tends to get dirty the easiest. Especially because sometimes, we spill liquids that can turn into a sticky mess very quickly. We recommend here the best floor cleaner with the mop as it not only cleans deeply, eliminating germs but does not leave it sticky.
Goodbye dust
Insects love to dust, so you should pay special attention to cleaning all dusty surfaces. To do this, you can use a duster or a damp microfiber cloth to clean shelves and certain areas where dust accumulates such as our decorations, books, or furniture.
Cleaning glass surfaces
One overlooked item that you should not forget to include in your cleaning routine is windows. Use a glass-cleaning liquid and place it on a cloth. 
Vacuum the blinds and curtains
Wipe them with a damp microfiber cloth. Keep in mind that metal or vinyl blinds can be washed in a tub with warm soapy water and a cup of white vinegar (be sure to squeeze the blinds completely before removing them from their holders), then rinse and dry them on a towel as they are an area where we often do not clean and tend to accumulate a lot of dust that is harmful to our health.
So here are some tips for cleaning your living room and keeping it tidy and clean. It's no easy task, but worth doing it. 
If you are interested in reading more tips on topics like this, leave us a comment to upload more tips.