The bathroom is where your eyes go as soon as you go to rent a house or apartment and many times they are small but that doesn't mean we can't give our style a small bathroom.
A small bathroom can be the key to creating a different and stylish space at home. Whether it is a guest bathroom or your apartment is small, we are going to leave you five essential tips to give style to your small bathroom. We have three objectives: to create the feeling that there is more space, to bet on originality, and to be practical without neglecting the style.
Light and bright colors
A white base in the bathroom creates an effect of spaciousness, that's right. The light has more points to reflect, which will also make it a better illuminated space. The toilets and the main walls are white, you will not regret it. In addition, on such a neutral base, then any detail attracts more attention and is easier to combine.
Shine that wall
If you prefer a neutral floor, you can unleash all your creativity by focusing on one wall. Tiles are going to become your greatest ally for this. You can create different spaces, for example, on the same wall separate the shower area from the sink. A simple and very special way to decorate your bathroom.
Special Mirror
Undoubtedly, the key piece of a small bathroom is the mirror. Give it the importance it deserves. Opt for round shapes, it will help create harmony with the rest of the spaces. You can also place a large mirror, try not to make it too wide, it can diminish the feeling of spaciousness that we intend to achieve with white. Here, free choice, shapes, colors, and frames.
Details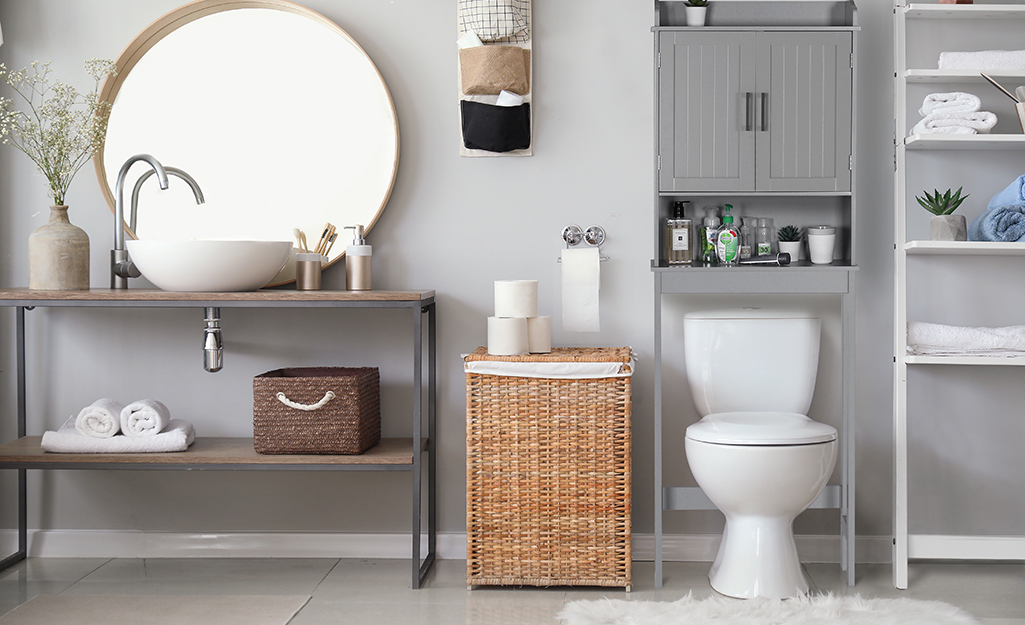 A small bathroom can immediately look cluttered, that's why storage and details are key. Try to keep everything you can in cabinets, if it is not visible, it does not create a sense of clutter. And, for the rest, use the wall! No more taking inches off the floor. Furniture upwards, drawers on the wall… Whatever you need to keep everything in its place.
Dual function
When choosing pieces, look for those that do double duty, such as the small square shelf with towel hooks. The cantilevered vanity unit makes better use of space.
Creative FLOOR
There are endless options and materials to create a floor of the most original. Opt for large tiles, so you will create a more spacious feel. You can opt for patterned tiles, make mosaics or simply create a contrast with more intense color. Creativity has no limits.
Bathroom wall organizers
Soap dish, toothbrush cup, toothpaste… Your sink countertop may not be big enough to hold everything you use in the bathroom every day. 
Hope these tips will be useful for you to style a small bathroom.
Remember if you want to get your house Sparkling Cleaned without moving a finger, don't hesitate and call Cleany! 
To purchase the best Cleaning products recommended by professionals, go to our Cleany Store!