When you decide to renovate your apartment or house there is a lot of dust, dirt, pieces of drywall, and dirty window seals mount a powerful offensive against your team of cleaners. With this post construction cleaning guide, you will have a clean house very quickly 
The first thing we advise you to do is to call a cleaning company so that they can do this heavy work and you can relax. What are the benefits of hiring a professional cleaning company for this?
Professional post-construction cleaners understand the hazards that come with cleaning after contractors have been in a property.
Anyone can clean, but cleaning Pros are more efficient and effective because they've been trained in the best methods and equipment to use to clean every surface and type of stain.
Cleaning Pros bring the right tools with them, and also use commercial cleaning solutions where appropriate, which deliver faster and more effective results.
With a professional cleaning crew you pay a fixed price, meaning your budget is protected.
Post Construction Cleaning Tips and Checklist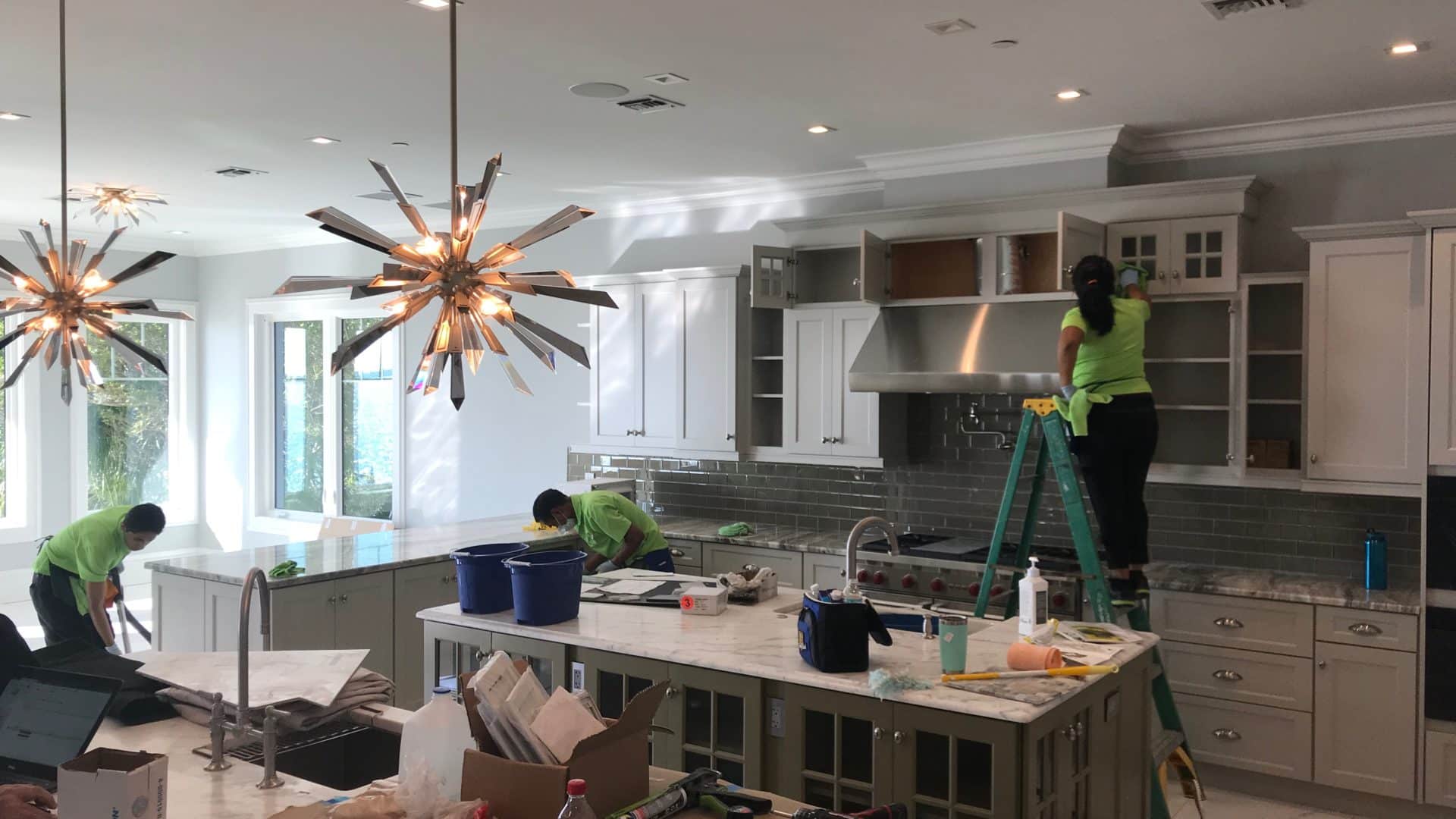 1.Throwing out the Trash
This goes without saying, but throw out all the trash. This includes the trash of the construction (broken pieces of wood, construction remains, loose screws, etc.) as well as trash of the construction site (old coffee cups, plastic bags, etc.). 
2.Vacuuming
Another vital task on the post-construction cleaning checklist is vacuuming your house. This will clean the construction remains and dust that fell on the carpets during the construction work and help you get the best carpet looks which got a layer on it because of the construction. 
3.Mopping
Once you are done with vacuuming, you need to get the mop and start mopping all the hard floors. 
4.Dusting Fans and Ceilings
After every construction project, it is very important that you pay attention to the places that are hard to reach, such as ceilings and ceiling fans. 
5.Sponging Countertop
Similar to the ceiling, furniture, and floor, countertops are also exposed to dust-infused air caused by any form of a construction project. However, unlike ceilings, furniture, and floor, dusting is not enough for the countertop of your house.
6.Removing Paint from the Corners
During a construction project, especially if there is a paint job involved, it is very common that some strokes of paint will go out of the line and get on corners and edges. It may not be grabbing that much of your attention, but it is a flaw in your perfect room.
7.Cleaning Windows
This is a step that is necessary after every little as well as large project. Your windows and windowsills may have visible streaks, handprints, construction dust, or splatters of paint on them.
8.Cleaning Mirrors
Dirty mirrors are noticeable and tend to grab peoples' attention more. So after any form of project or even if you are simply cleaning your house cause you feel like it, take a glass cleaner and a paper towel and clean those fingerprints, handprints, and dust off your mirrors.
9.Cleaning Cabinets
Cabinets beautify your home with modern storage space, spaces that you use every day to keep your utensils of  every-day use. After a construction project, it is very vital that you clean your cabinets with disinfection.
10.Cleaning Home Appliances
Your stove, microwave, oven, refrigerator, toaster, coffee maker, and any other home appliance should be clean at all times. During a construction project, the probability of your appliances having dust and microbial on them increases.
Remember if you want to get your house Sparkling Cleaned without moving a finger, don't hesitate and call Cleany! 
To purchase the best Cleaning products recommended by professionals, go to our Cleany Store!