If there is an appliance that is too lazy to clean, it is the kitchen oven, because when it is very dirty, full of grease, or even burned, we must face a good cleaning session that leaves it impeccable.
Fortunately, this process can be much easier and faster thanks to a series of products that are for sale in any store, although it is also possible to use natural remedies and home tricks.
How to clean a burnt oven
If your oven is burnt and you want it to look as good as new, Cleany recommends that you follow a few steps to get rid of the grease and odor from the damaged appliance:
Soap the oven with a neutral soap such as, for example, the one used to wash dishes.

With soap, unlike with some natural remedies, you will hardly have to rub to remove the remains of dirt.

Rinse your oven well with a damp cloth and be sure to remove all traces of soap.

Dry the whole oven well with kitchen paper so that it is completely shiny.
How to do a deep clean in the oven
Whenever one thinks of how to clean a very dirty oven, different products come to mind that are used in kitchen cleaning on a regular basis and that help to remove grease in an easier and faster way. These products are also a good alternative for those who are wondering how to clean a burnt oven, as well as a very greasy one.
Usually, the instructions for use are detailed on the product itself, almost all of them are used in a similar way:
Take the product and spray the inside of the oven well.

Set the oven as if you were going to cook, but without trays. This will make it easier for dirt and grease to soften. However, there are products with which you only have to wait, without the need to heat the oven.

Once the indicated time has passed, and allowing the oven to cool down a little so as not to burn yourself, you have to pass a very damp cloth over all the areas where you have sprayed the product.
How to clean the oven glass
If the goal is to learn how to clean the oven thoroughly, you cannot forget the trays and the glass of the door. That's why, below, we explain how to clean the oven glass step by step:
In a bowl, mix two tablespoons of baking soda and half a glass of warm water.
Apply the paste on the oven glass and, after 15 minutes, wipe it with a damp cloth to remove any traces of the mixture.

If you want to shine your glass, feel free to mix a little white vinegar in water and use another dry cloth to remove the ingredients.
How to clean the oven with baking soda
Baking soda is a substance widely use for household and laundry cleaning. This is mainly due to its bleaching, antiseptic and antibacterial properties, as these allow you to remove grease from various surfaces and disinfect them with ease.
In addition, whether you want to know how to clean an electric oven or a gas oven, baking soda can become your best ally.
Make a mixture with 10 tablespoons of baking soda, 4 tablespoons of hot water and 3 tablespoons of vinegar (another product widely used for household cleaning).

Apply this mixture all over the oven.

Let the products act for a couple of hours or, if possible, overnight.

Finally, you will only have to rinse with plenty of water and with the help of a cloth.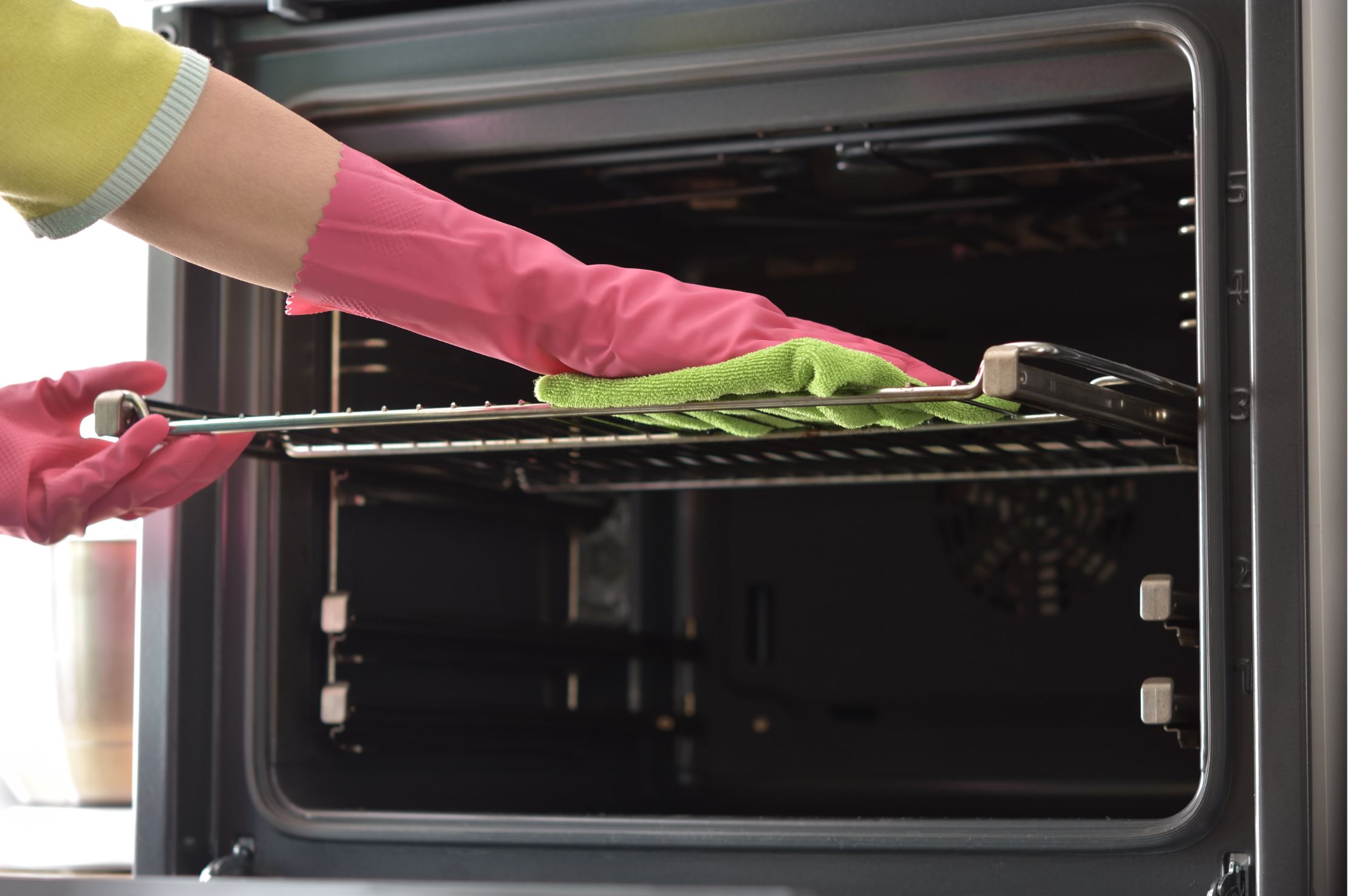 Remember if you want to get your house Sparkling Cleaned without moving a finger, don't hesitate and call Cleany! 
To purchase the best Cleaning products recommended by professionals, go to our Cleany Store!